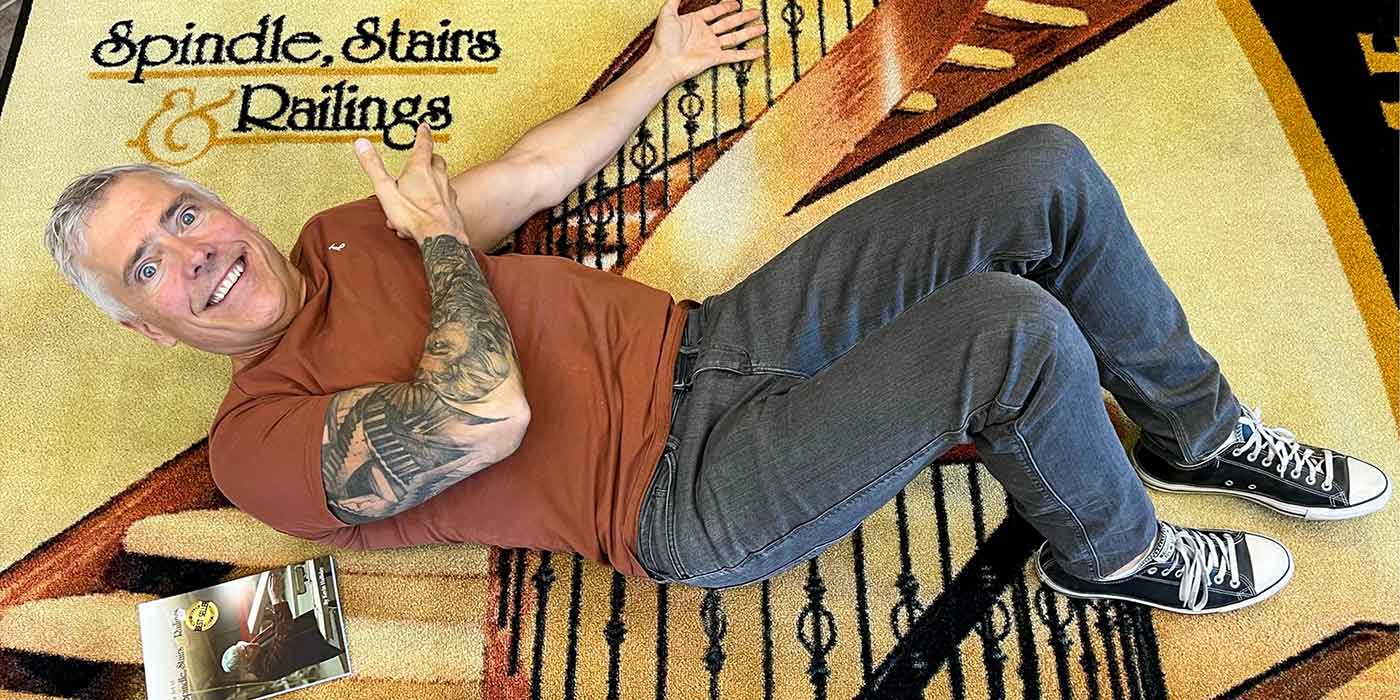 Crucial Tips for Hiring the Right Contractor or Company for your Project
July 28, 2022
Every staircase manufactured at Spindle, Stairs and Railings is done so with the customer in mind, this includes safety, functionality and beauty. We have been customer-focused since we first opened our doors over 20 years ago. What drives me, and our team, is to make a WOW statement, to show off our creativity by creating a lasting impression, not only in the design and build, but our customer service.
Though Stair design, manufacturing, and installation are a niche sub-section of the construction industry. We recognize that customers have more options on whom to do the work and where to get their materials from these days. Believe it or not – not everyone chooses us to take on their project, and that's okay. However before people walk through our showroom doors or reach out to their local contractor, general questions arise like: What do I ask? Where do I turn to? Do I hire a contractor? Do I go to a special company? Can't anyone design and make stairs?
It's at this point you might quickly open that famous Google search engine to figure out the answers to these questions. If it's convenient, you might visit a local hardware store to better explain your situation to someone knowledgeable in hopes of help, or to be referred to a contractor or niche company.
From here, anxiety can arise as one runs through the stress of thinking about what the total cost will be to complete, how long your home might look like a construction zone, did you choose the right company or contractor to do the job, and most importantly – will the job get finished?
The Foundation
Over the years we've listened to our customer's struggles and frustrations working with general Contractors, similar niche companies or industry tradesmen: delayed wait times for products, deposits made and no action followed through on the work, safety concerns due to poor installation. Suddenly a promising and exciting project has lost its lustre and has caused undue stress on the customer. We're not saying this is a normal experience, there are some great tradesmen/women and companies out there, but unfortunate things do happen!
We've always recognized, that our customers are our priority and stress, delays, or any other issues lead to a negative overall experience. It doesn't matter how beautiful the end result of the project is, if the journey to the end result isn't positive then we have not met our own high standards. That's why we implemented our own manufacturing process allowing us to have complete control from start to finish in the manufacturing of our client's projects. Meaning, no external wait times. It's all in-house, on our timeline. This means our customer projects are not subjected to any delays, it also means you can be assured that all safety and building codes are being met.
It's why staying up-to-date on all local, provincial and national required building codes is so important to us. Just within the last 5 years, they've been updated to include cable railing systems and we have become one of the premier installers of them in Alberta.
Although my company is located in Calgary, perhaps a little unknown fact is that we have a separate family business located in Edmonton, Alberta — Spindle Factory. Together, the combined resources of our two businesses measure 120,000 square feet, we have thousands of products, and management has over 100 years of combined knowledge of the stair-making industry. Making us one of, if not, the largest stair company in Alberta (and maybe in Canada)!
To date, we stand by the principle that if the item is not installed correctly the first time, then it won't be. Therefore, we greatly emphasize how we serve and take to heart everyone's individual needs per build or renovation. Honestly, within our company's lifespan, we haven't experienced any warranty issues. We do believe that this truly reflects our method and high standard of service delivered to all clientele.
In other words, when you're looking for someone to take on your project – not just a stair renovation or new installation – any project, make sure they have a foundation of knowledge, expertise, and supply to draw upon. Choose someone at a minimum that has worked on a project like yours.
Things to ask before your project starts
✓ Where are your stair components coming from?
✓ Who is ultimately going to build your project?
✓ What does the project time frame look like?
✓ Will they be pulling permits or am I?
✓ Ensure you understand the "standard" of what is and is not included in the price. Furthermore, if there are any upgrades available that you'd prefer and at what fee.
✓ Who will be here every day?
✓ How do I reach you after hours?
✓ Am I using reputable professionals
Starting Point
I like to find out the needs and wants of each customer, to best determine our professional advice and suggestions for every project. I think it factors down to being able to ask the right questions. Generally, we find most customers come in having no clue what they want for their staircase design, perhaps even being unaware of the sheer magnitude of options available to them! That's why it's always a benefit to go to a niche company like ours, that strictly provides stairs, rather than going to a contractor. We will know what all the available options are for your project.
No matter your question, whether you go with us or not, or the size of the stair installation or renovation, I like to make every conversation memorable and genuinely help someone out when I'm able to! This for us, means a great customer experience from the start, not when you provide your credit card. Envisioning the final look of your space is what makes any big or small project fun, but the start of the journey is just as important.
We know that good news travels slowly and bad news travels fast — when we constantly come through with what we say and deliver time and time again, our customers are ecstatic. That's why we receive so many referrals!
In contrast, sadly, we estimate receiving one call a week, that's 52 calls a year, from frustrated people who proceeded with un-reputable business or contractors that need assistance completing, or redoing the work. I take many of these phone calls. I'm empathetic to the conversation.
We do encourage you to get estimates from several contractors/companies before starting your project. Not only will you get more perspective on appropriate costs, but you'll get an idea of the calibre of work that each service provider will give you.
Things to consider when reviewing a contractor or company
✓ Check with the Better Business Bureau.
✓ Determine whether any formal complaints or legal actions have occurred in the past or would be pending.
✓ Find out if the company is bonded (we are!).
✓ Read their online reviews (we have over 50 positive Google reviews!).
✓ Request recent testimonials or contacts.
✓ Request a portfolio or similar project work.
✓ Ask, do they have paid insurance?
✓ Ask if your money is protected?
The checklist above, in my opinion, is perhaps some of the most important things you should ask before you even sign on the dotted line.
Adding to the above, we've always taken what we do seriously because we are crazy passionate about what we do! It's why I've written and published a DIY self-help book on how to build stairs! Our passion is also why the Alberta community has recognized our work and customer satisfaction several times. Here is a mere cross-section of the awards that we've received over the years:
Canada's Fastest-Growing Company from Profit Magazine;
Best New Idea from CRHBA, the SAM Award;
Winner of the Alberta Chamber of Commerce;
Alberta Business Awards of Distinction;
Fastest Growing Company from Alberta
Take the time – it's your space
The bottom line for you, a potential customer, is to make sure you choose someone that is not only knowledgeable but is as passionate about stairs as we are. At the end of the day, it's your space.
We really emphasize taking your time and to not rush finding the right person or company for your project. Make sure to shop around. Finding the first self-help-tool man from an online search could leave you with a headache and an incomplete project which will end up costing you more - not only the budget but time and effort to seek out someone else to redo or complete the work.
Go for the company or contractor that is willing to take the time and provide you with all the information needed beforehand and is ready to give advice as well. Don't just go for the lowest price – though tempting – this can be a red-herring. Shop around, ask questions, google them, and ask for references on previous projects. Ask where they are getting their supplies from.
We will always be able to back up our craftsmanship, safety record, and work ethic. Make sure the company or contractor you work with can do the same.
Remember, with the work complete you will (perhaps) see it every day and we want to make sure that when you choose us, you have an outstanding experience.
I hope that this insight piece provides better clarity on what you should look for when starting your next stair project.
Click here for a downloadable checklist to use before the start of your next project.