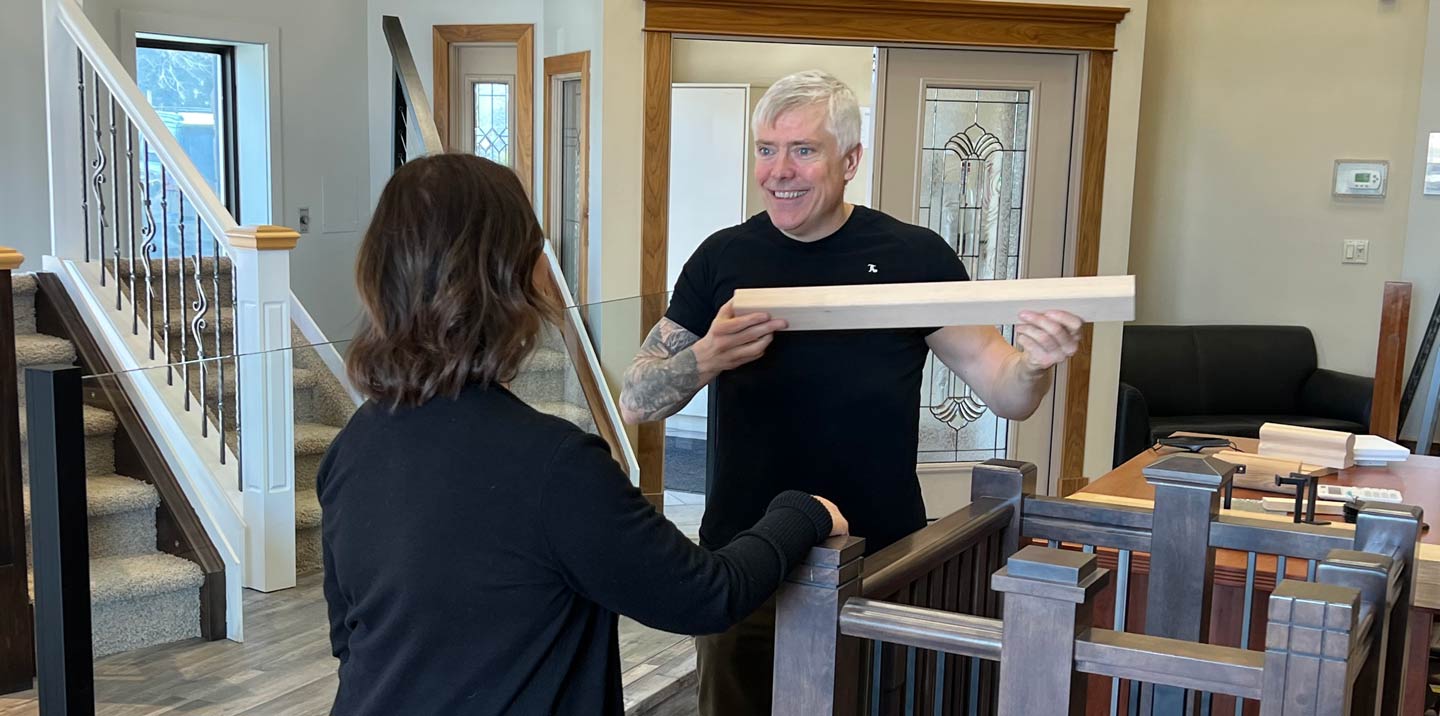 Valuable Customer Interactions are Crucial
February 13, 2022
The world is thankful to Henry Ford for creating the assembly line; it was designed for production not service. Our production allows us to deliver spectacular products paralleling our personal approach as a team to every customer who chooses to walk through the doors of Spindle, Stairs & Railings. We see this as value-adding to your customer experience. Realizing that this simple activity of personal support builds strong customer relationships; which is critical for success and improvement.
Interpersonal skills help build this customer loyalty. Eye contact connects us to emotions of trust and a warm smile immediately means we are communicating with someone who is approachable and more importantly, friendly. This will date me, as the backbone to the company has been founded on face-to-face interactions.
We don't take the easy way out when a customer asks for help, we embrace your vision, partner with you to accomplish the best outcome possible. We jump right into the vision with you.  One of our customers, Ali, recently left us the below review - highlighting her happiness in our blend of superior customer service and phenomenal product:
I'd like to emphasize our observability in renovations in that we don't have hidden costs - that is part of our clarity to you. Others might consider staining, painting, project management time and possible outsourcing to other tradesmen and more.. as add-ons - likely leaving you unaware of these additional prices.
We control the supply to the production of the product, truly manufacturing the availability of the materials to selling the book of "how-to" self install the product in being able to teach you this.  I am an engaged owner, and could very well be the one talking with you from start to finish for your stair renovation. In thinking outside the box, we have an efficient 24hour process where you can email us a picture of your staircase, or something that you're inspired to have installed, and within one working day, we call to provide you with a total budget. There is then no guessing or hidden costs and this clarity gives you an informed overview; this is all accomplished without having to go to your home!
A second, likely unknown fact about Spindle, Stairs & Railings is that we're bonded.  Just to be clear, there are different types of bonds. Basically, all bonds are a type of insurance that protects against loss.  As a business, we have this in place so that if and when that specified loss occurs, the insurer covers the loss instead of you, the customer.
Contract bonds are one said type. An example would be, you hire a contractor to do a stair renovation and sign a contract with them but they don't finish the job. The contract bond would be paid out to you who could use the money for someone else to pick up the pieces and finish the work; the insurer may go back to the contractor for reimbursement. We realize the value in having this place and are aware that not many of our competitors have this surety. This is a great question to know and ask prior to choosing that final contractor for your project.
After all, my signature is on every component of the experiences by the company. Each act of service is one that defines us forever.  We give the best of what we have because we can and do so that we continue to soar (and stay) at the top as a winner because we are.
We expand our technology to offer our assistance in creative solution methods however, our customer service is to embrace each customer on a one-to-one basis.
We stand out from the crowd in a further way by having a 4.9 Google review summary and have growing reviews! We don't only have customer loyalty but continued industry respect in that we recently won 10 different Platinum CommunityVotes from Calgary 2021! An accomplishment we'd like to highlight is one from the Retail - Hardware Store Category: Silver went to Lee Valley, Gold was shared between The Home Depot and Windsor Plywood and we came out on top!
We focus on each interaction, intently communicating; whether your project is big or small, the relevancy is that you've chosen us as the company to partner with you for it and that is relevant to me and my team.
Getting help should make you feel like you're chatting with an old friend.  Customer service remains to revolve around conversations.
Shep Hyken can be famously quoted in saying, "The greatest technology in the world hasn't replaced the ultimate relationship building tool between a customer and a business – the human touch." Despite the greatest technological achievements, relationship building is best in human touch. We want to earn your loyalty and have a genuine emotional and human connection with you. Your satisfaction is what rates us and it's through these individual interactions and finished work that creates our brand in loyalty.
Customer service is intentional. Contact and partner with us - whether your first step is initially via email or by physically walking in person to our store; we look forward to having an honest conversation followed by action applicable to your specific needs.