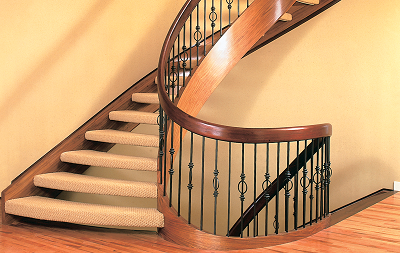 Tread Step Measurement Increase Prevents Falls, Injuries and Emergency Hospitalizations
December 31, 2021
When designing a new building space, it's very significant to not compromise functionality over aesthetics.  The shape of the step ultimately determines how you use it.
Without realizing it, each step we take, unconsciously our body behaves and adjusts to movement as we climb up or shift down a flight of stairs.  Typically, we're so focused on getting to the destination, to stop and realize the importance and significance the composition of a stair really has to our everyday lives.
It used to be that the National Code of Canada suggested stairs be a minimum of 21 centimetres (or 8 1/4 inches) for the tread.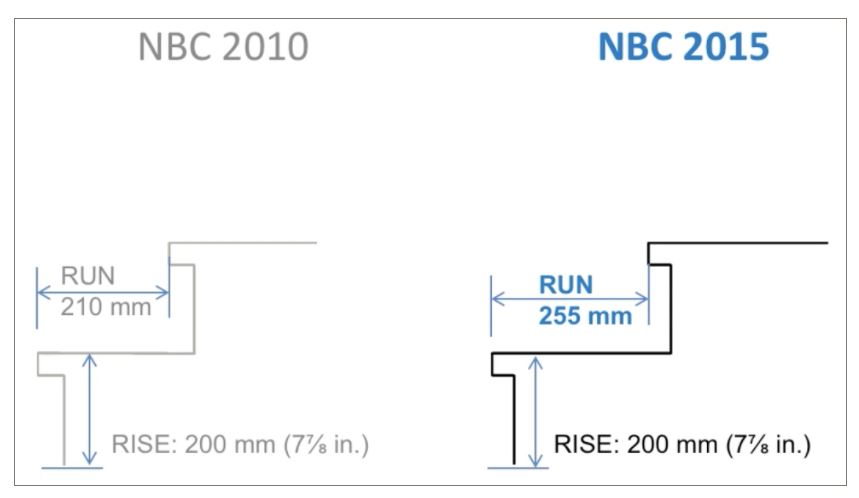 Source: National Research Council Canada
To better understand the complexity and language used to describe the functionality of each step - we need to learn the anatomy.  The 4 parts are:
Landing: it's a construction platform level to the floor and can be used where stairs change direction between stairs or flights of stairs as well as if a doorway opens toward a stairway, a landing is needed.
Tread: refers to the horizontal piece that forms each stair.  This is what you step on.
Riser: is the vertical piece of the stair.  This creates the height of the stair.
Nosing: this is the very edge of the tread, where we most often place our feet when moving up or down a flight of stairs.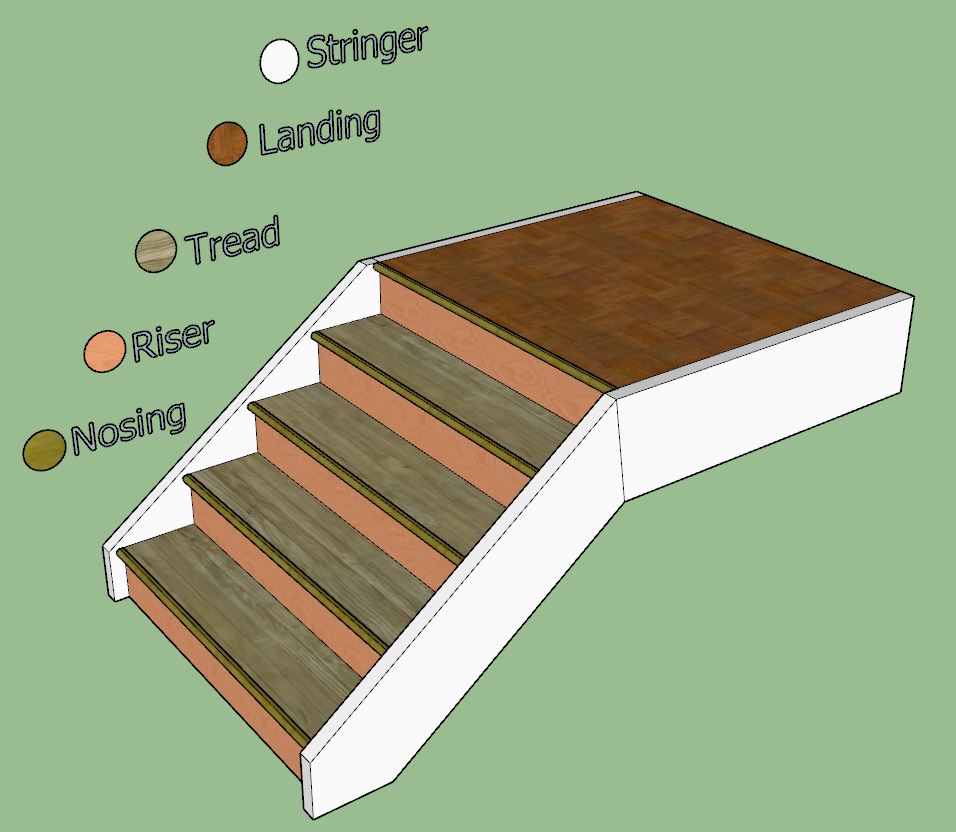 As Spindle, Stairs & Railings is based in Alberta, and fortunately has many clientele nationwide, it's imperative to build stairs to code.  In 2019, the National Building Code has been increased to 255- 355mm (or 10inches - 13.9inches).
This provincial jurisdiction information can be found in the report titled, "National Building Code - 2019 Alberta Edition, Volume 1 published by the National Research Council of Canada".
The Canadian Institute for Health Information (CIHI) reported between 2019 and 2020 that unintentional falls are the leading cause for injury-related hospitalization.
A total of 21,941 women between the ages of 18-64 were hospitalized, while 14,999 men in the same age bracket were admitted.  This is down from the total of 42,683 women in the same age bracket were hospitalized while 63,937 men in the same age bracket between 2015 and 2016.
In older Canadians, aged 65 plus, 37,666 women were admitted compared to 20,829 men.  In elders, hip injuries are the most common.
READ MORE: Canadian Centre for Occupational Health and Safety (CCOHS)
Within the Toronto Rehabilitation Institute - UHN (TRI) is the Home and Community Team; this investigative team in 2015 put forward the suggestion to increase the tread depth to eliminate foot overhang allowing more of the foot to be positioned on the tread of the step.  This design change would significantly help reduce the number of falls by simply increasing the tread depth of a step by almost 5 centimetres (or 2 inches).
Their focus has been to study stair design.  To separate and analyze how stairs have been constructed to better learn, understand and apply their findings to improve their shape and feel, ultimately for the well-being as we grow old.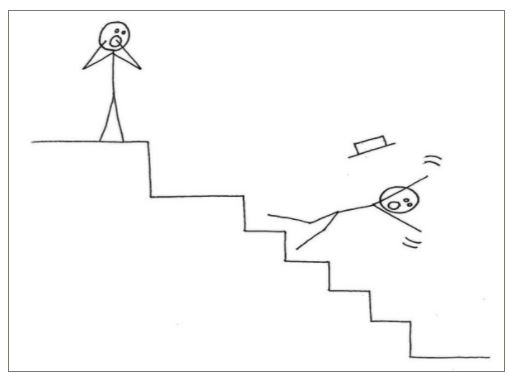 Source: TRI Home and Community
Known as the StairLab within TRI, the researchers have created moveable stairs to easily adjust the tread depth.  Trial participants were observed in how their bodies behaved to shorter and longer treads.  Ultimately, a shorter tread meant the participant when walking down the flight of stairs, would have their upper torso lean forward increasing the possibility for instability and a higher chance of falling.   In contrast, as the tread was increased, the upper torso leaned back as the person was more comfortable in having more of the foot supported below by the tread.
This change is significant as it'll prevent 4,400 fall occurrences each year after 2020, as well as save by 2040 over 300 deaths.
READ MORE: Increasing stair depth could save lives: researchers say (CTV)
The National Building Code of Canada (NBC) states in their report called, "Stairs, Guards and Handrails" that kids, should they fall, are three times more likely to acquire a brain injury.
Hindering stair falls impedes on health, confidence and independence.  Getting injured, hurt or possibly even killed.  With justified, rigorous study the thought and attention to detail is to minimize the loss of balance.  In fairness, the risk will never be fully eliminated.  Unsafe behaviour, inappropriate footwear and general inattention affect this outcome.
It's important to realize that with good housecleaning, wearing the correct shoes, having a handrail at the correct height all aid to a safer stair environment.  You should avoid using distracting runners on stairs.  Do have brighter lighting over them, and have a line or something simple along the nosing which will help differentiate the edge of each step; prevent a fall with a better design.
The president, Kevin Halliday of Spindle, Stairs & Railings says, "Remember, you're always going to be buying a stairway from Kevin! As the company focuses on, "Safety, functionality and beauty. Renovations, residential new builds, commercial – interior, exterior – Spindle, Stairs and Railings can do it all."